Asphalt 7 Heat v1 0 0 Google Play Non-Rooted
لعبة السباقات الرائعة للاندرويد Asphalt 7 Heat بحجم 880 ميجا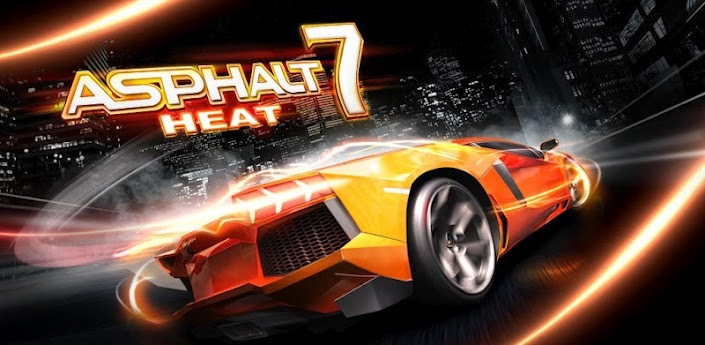 Asphalt 7 Heat v1 0 0 Google Play Non-Rooted


A FIRST-CLASS LINEUP:
Drive 60 different cars from the world�s most prestigious manufacturers, like Ferrari, Lamborghini and Aston Martin, including the legendary DeLorean.
RACE ACROSS THE GLOBE:
Gear up to race on 15 tracks set in real cities around the world, including brand new tracks in Hawaii, Paris, London, Miami and Rio.
CHALLENGE THE WORLD:
The completely revamped multiplayer lets you take on up to 5 of your friends locally or online. Keep track of who�s the best with the new Asphalt Tracker that lets you compare stats, show off achievements and challenge rivals. You can also find new online opponents with the matchmaking system. Practice haHit the speed of heat in the newest, fastest, most visually stunning edition of the famed Asphalt series.
YOUR WAY OR THE HIGHWAY:
Play however you please with 6 different game modes packed with 15 leagues and 150 different races.
CUTTING EDGE GRAPHICS:
Every car and track is more beautiful than ever thanks to graphics that push the limits of your device and the Retina display.
A RECORD OF SUCCESS:
Acclaimed by both media and players, the Asphalt license has already attracted several million players worldwide... Come and join the ride!
Required Android O/S : 2.2+
https://play.google.com/store/apps/d...ANMP.GloftA7HM
(Non-Rooted / Offline) Instructions:
1.Remove previous version APK + OBB + SD data
2.Install this APK
3.Copy obb "com.gameloft.android.ANMP.GloftA7HM" folder to 'sdcard/Android/Obb/'
4.Launch the game
You Must download the obb rar files. You will not be able to install just the apk and download them through the app !!
Please Note: If game closes after 1st run, check the obb file
(main.100.com.gameloft.android.ANMP.GloftA7HM.obb) does exist in obb folder.
(sdcard/Android/obb/com.gameloft.android.ANMP.GloftA7HM)
If not copy the obb file again!
Also Note: When the game starts up the language is in chinese. When it starts up hit the Settings button (the one with the gears in the upper right side) and hit the 4th option down, it will then show you a ton of flags, choose yours and the language will change.
التحميل :-
Filerio.in
http://short.downloadiz2.com/318696
Filecloud.io
http://short.downloadiz2.com/318697
Www.fileflyer.com
http://short.downloadiz2.com/318698
Www.unlimitshare.com
http://short.downloadiz2.com/318699
Filegag.com
http://short.downloadiz2.com/318700
Www.embedupload.com
http://short.downloadiz2.com/318701
Www.filejungle.com
http://short.downloadiz2.com/318702
Www.fileserving.com
http://short.downloadiz2.com/318703
Clouds.to
http://short.downloadiz2.com/318704
BillionUploads.com
http://short.downloadiz2.com/318705
Glumbouploads.com
http://short.downloadiz2.com/318706
Www.crocko.com
http://short.downloadiz2.com/318707
Rapidshare.com
http://short.downloadiz2.com/318708
Www.uploadc.com
http://short.downloadiz2.com/318709
Ul.to
http://short.downloadiz2.com/318710
Www.uploadstation.com
http://short.downloadiz2.com/318711
Www.queenshare.com
http://short.downloadiz2.com/318712
Uptobox.com
http://short.downloadiz2.com/318713
Turbobit.net
http://short.downloadiz2.com/318714